October 1st - Posted By Striper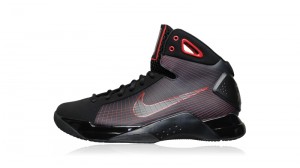 There is a question that is posed every year "What will be the hottest shoe of the year?" In 2008 the answer comes down to 2 possibilities, Old school vs. New School, Classic design VS. modern technology. The best ever VS best in the game today. We are talking about the Nike Hyperdunk and the Air Jordan 4.
On July 2nd Kobe showed up in style an old school DMC Delorean paying tribute to The Back to the Future film, which inspired this color way of the Hyperdunk. At last look this shoe is selling for over $1000.00, but it goes much further than that. Kobe also set the pace in an online video where he jumped over a speeding car heading towards him. Kids and adults alike have been asking for this shoe for months before its widespread release date of July 26.
The Air Jordan 4 is a masterpiece of footwear. The brilliant marketing "Is it the shoes?" featuring Spike Lee helped push the sneaker game to a whole new level. The black/gray/red color way of this shoe is my personal favorite. It was my 2nd pair of Air Jordans ever back in 1989. I remember watching a Bulls game with my father and the commercial coming on, and asking him for a pair these shoes. After about the 3rd time the commercial came on and my constant nagging afterwards he agreed to take me down to the local shoes store to me buy a pair. The next day we went to Foot Locker and both walked out with a new matching pairs of Air Jordan 4. This started a 19 year and 800+ pairs obsession with sneakers. Jump ahead to spring of 1999, I am a senior in high school news of this shoe being released again over shadows my thought of graduation. I had to borrow a car that day to insure I got a chance to buy my beloved air Jordan 4's again. After waiting 2 ½ hours later the store opened. I was so nervous and excited I felt a need to throw up. This feeling ended with the clerk said what size? I returned home with my sought after prize.
Once again was able to relive my excitement this past July with the 6th installment Jordan Countdown Package. Now managing a shoe store I could live the excitement in a new way. We by far had the best turn out for this particular package. Young and old alike came to this release those hoping to relive the past and a new generation of sneaker heads coming for their first chance to own this trophy of the shoe came. Until now this shoe has been out of reach for most people selling for over 1200.00 for an original or over 500.00 for the retro from 99. I get a smile on my face every time I see these shoes taking me back to my childhood.
The Winner for 2008 is the Air Jordan Retro 4 from the Countdown Collection.
Tyler Leete, manager
Las Vegas
RELATED POSTS
ALSO POSTED IN...