February 12th - Posted By NotebookNick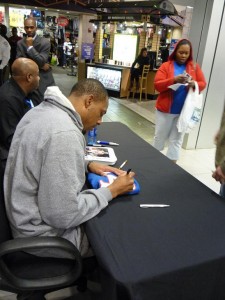 "Paul Pierce is here!" The whispers rippled through the store the minute he hit the back door. The lineup was down a couple stores. For such a quietly promoted event, there was definite excitement in the air at The Parks in Arlington's Foot Locker tonight. Pierce was a little late, as was everyone else, due mostly to the 9.5 inches of snow that hit Dallas in the last 24 hours. True heads came out, some with Celtics gear on, and a few came with Kansas jerseys (Paul's alma mater). Paul was friendly with everyone, did multiple signings for a few people who lined up more than once, and took pictures with all who asked, even when it held up the line.
Personally, I couldn't believe it when I got the call to get myself all the way across Dallas and into Arlington for this appearance. Pierce is one of those "true" guys in the NBA. Guys who love the game, work at it, and have defied some sort of odds to get there. I'm not a hardcore Celtics fan, but he's one of the guys I love. Not overly strong, but amazingly skilled. He's one of the guys I'm looking forward to seeing live on Sunday. Meeting him today was a milestone. He's the first NBA guy I've met, was friendly, and he even knocked my choice of Valentine's Day gift ("get her some roses, dawg!"). He was only there an hour, but his presence was felt. Fans were truly hyped to see him, and there were mall employees that ran across the hallway to jump in line. One guy took his break from the hat store down the hall and stood for a good half hour before getting his uniform and a dollar bill signed. After signing for an hour, he took some candids with the Foot Locker stripers, talked for a minute, and then rolled out. Paul was really genuine with the fans, he lived up to his nickname, "The Truth." I'm super hyped for more appearances, and hope this was only the beginning for my All-Star '10 adventure.
RELATED POSTS
ALSO POSTED IN...