I was charged! When they told me I would get to go 1-on-1 with Dwyane Wade, I went to the gym and ran a few extra laps. I took 500 jump shots [we won't discuss how many I made], and got some Fly Wades to rock for this once in a lifetime opportunity. I'm pretty good, so I figured I'd at least give him a run for his money. Yeah, I was ready to go! Then I showed up to the Court Grip press event and saw my hoop dreams dashed. It was a 1-on-1 interview with D Wade. I put away my gear and broke out the voice recorder. After the jump, we have two offerings. First up is a video of Dwyane Wade answering questions about Court Grip. Second is the 1-on-1 we did while driving over to the Foot Locker in-store event.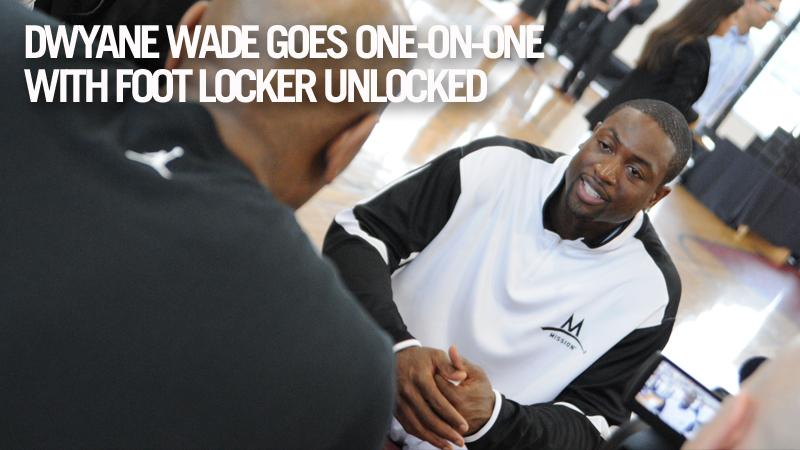 First kicks you ever brought?
The first kicks I bought when I got to college were the Space Jams. That was the first time buying a pair of Jordan's and I was pumped.

How do you feel about Court Grip overall? How do you feel the day went?
I think today went well. I think we got the message out. Obviously there was already a little buzz about the Court Grip, but I think hearing the message, people coming out getting informed about the product and understanding how long we've been preparing for this and how much work went behind it, that's the biggest thing.
We did a poll on Facebook the best Rapper, Who do you think took that?
Who I think took it? Knowing the kids of today, probably Lil Wayne but who I think it is, still gonna give it to Jay-Z.
How did you feel hearing Kanye and Jay-Z talk about you and LeBron on the song 'Gotta Have It?
When someone is sitting down putting an album together like Watch the Throne and seeing how those guys put it together, you never expect them to be thinking about you while they're putting it together. It could be a double entendre, which means they put a lot of thought into it, so when you think about it that way, it's cool. Obviously you're getting your name on a record. The first time it happens is kind of surreal because you grew up listening to artists putting people names in songs and you be like: " Man, one day that will be cool if I can get my name in there." When I was younger I would always be thinking of stuff like Wade/paid/lemonade. I try to think of something that rhymes. I respect them for it.
You've been in Miami 7-8 years now, you love Miami more than Chi now?
It's 8 going on 9. I love Miami, I'm going to retire here, that will be home for me. I'll always be Chicago to the core and always hold down a residence there and split time between the two. I like palm trees, I like the weather, I don't like the winter.
You have the most complete game in the NBA, what have you been working on over the summer?
Post-up, mid-range, handle, everything. Try to get better at the catch and shoot as I get into the latter stages of my career. Get better at receiving the ball because earlier in my career all my stuff was off the dribble, on the rock, but now just trying to get better off the ball, shoot without dribbling and more face-ups.
Do you feel when the season starts you guys will be ready to go out and wreak havoc?
We'll be a better team, whether we start off good or we start off average. I think we've learned from last year, mistakes we made on and off the court. I mean on and off the podium [laughter]. One of the things we'll learn from losing in the Finals is what it takes to get back there and seizing that moment if we ever get back there again.
That's the hardest part, some people never get back, some are there all the time.
You never can think "Oh we made it this year, we'll make it back next year" So many great athletes before us probably felt that way or we thought would be back again. You think of 1 in Miami Dan Marino he made it his 1st year and never made it back again and he's one of the greatest quarterbacks of all time. He didn't get an opportunity to win a championship, so you gotta seize it.
You guys have the big game on October 8th in Miami, how do you feel you're going to do? You haven't really played in these games this summer.
It's basketball, we're going to go out and have fun, compete and try to win. But I don't have to play in these games to know how to play basketball, but I look forward to it. I think it's going to be great for our community, it will be a great night. We might not have basketball in Miami for a while so it's going to be a great night for everybody who's going to be there to experience it and enjoy it and think "Oh man, I miss those guys" and appreciate what you do on a basketball court.
RELATED POSTS
ALSO POSTED IN...