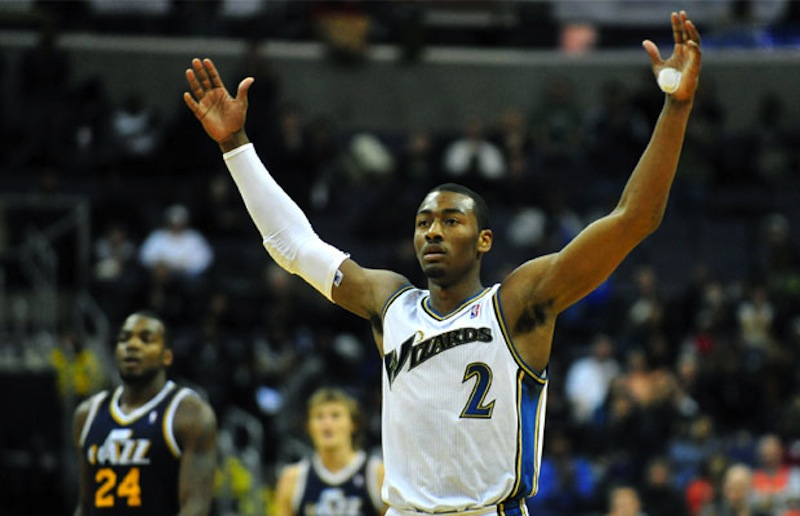 People can't get enough of John Wall. Whether he's killing in summer leagues – like dropping 55 points as he did in "The Big Payback" against the Drew League – or sitting at the edge of the list of future breakout stars, Wall is everywhere. He sneaker now is too.
Wall's second signature sneaker with Reebok, the Reebok Zig Encore has officially been released for the retail price of $115. With a 30-second commercial – "Power Your Breakout," starring Wall in his new joints and music by Swizz Beats – Reebok is looking to breakout with these kicks just as Wall is on the court.
This summer, I caught up to Wall at the Reebok Headquarters in Canton, Mass. and he went hard all day long in his new sneakers. They're definitely eye-opening in person with the red laces and the patent leather, and should look so smooth with the dope jerseys Washington will be sporting this season (if we have one). When we spent time with Wall recently out in Los Angeles, he broke the shoe down for us. Reebok let him help design it so he knows it all inside and out. Any question we asked him, he knew the answer and could explain it to us in depth… almost like he was already a vet in the sneaker game.
Here are some highlights of our conversation, as well as Wall explaining more about the shoe in another publication:
John Wall:
"To have your own shoe means a whole lot. You know, it's a dream come true. It means a whole lot to me because I helped design it. It's a mid-cut shoe: the way I like it."
"Reebok helped me design it, I got my logo on it. It's the first year I have my own logo and signature on it. That means a whole lot to me and my family, especially me because I get to wear my own shoe on the basketball court."
"I like them a whole lot. They are lighter. They're more like the style that I want to play in: mid-cut, right by my ankle. I don't really like hi-top shoes. But these are perfect for me and I think a lot of people are going to really like these."
From an interview with Eastbay: http://blog.eastbay.com/all/athlete-spotlight-john-wall/
Q: How did your partnership with Reebok start?
John Wall: Well it all started when I was basically a nobody. They were the first people to give me a chance to let myself be known as a basketball player across the nation when I got invited to the Breakout Challenge and went to the Reebok U camp and came out to be John Wall as the No. 1 player in my class. Reebok has been there since day one. Those are the things I look back at. We are like a big family.
Q: How has your shoe and logo been customized?
JW: The logo is perfect. It's a J and a W so it matches me perfect- JW, John Wall, whatever you want to call me. And then I got my initials here. The thing I like about it is it's a lower shoe. It fits me perfect. It's built for my speed. They've got the ZigTech in there. We've been branding with the running shoe and putting it into a basketball shoe, and I think a lot of people are going to like it.
Basically, we changed colors this year. We went with the red, white and blue so these will be like my away shoe color. The red, white and blue is going to be my game shoe. We've got the Nano bottom with the regular grip. So I like a whole lot, and then you've got the red shoestrings which basically mixes it all together to have the team colors in it as much as possible.
I think a lot of people are going to like this shoe. I think my first shoe did very well and I think the second shoe is gonna do a lot better. It feels good to know that I can put my own shoe in my hand and that y'all guys are willing to sell it in your book.
I think the market for people at Reebok is very unique. It's great to see that I got my own logo, my own shoe and I get to bring my stuff around.
The sneaker's lead designer – Drew The Designer – also spoke on the design process of the Zig Encore:
Drew:
"The first thing you noticed about John is speed from end-to-end. We had originally designed the shoe as a hi-top, but this is a mid-top.
"There's more full-court feel, more stability. The shoe performs. It's designed specifically for John.
"As we watch more of him, we have a better understanding of his game."
RELATED POSTS
ALSO POSTED IN...