June 26th - Posted By Teddy 'Roo
The NBA Draft will take place in Newark, NJ on Thursday, June 28. A handful of college and international players will see their NBA dreams come true and millions of NBA fans around the world will be watching to see which young talent will hold the key to their team's future. At Foot Locker we're big basketball fans too and, in a world where basketball sneakers shape fashion off the court, we'd like to take a look at the kicks of this year's draft class. Though NCAA student-athletes are not allowed to receive money and other impermissible benefits while they are in school, one thing they do receive are sneakers, and lots of them. Every major college program has a deal with a major company that provides the team with jerseys, warm ups, shoes, and lots of other gear. As a result, college players often have sneakers on the same level as their professional counterparts. Below we'll take a look at a handful of the prospects that will be drafted on Thursday night and try to see if we can figure out what sneakers they'll be wearing at the next level. While in college, players can only wear shoes from the company the school has a deal with. We've put the company in parenthesis next to the schools below.
Anthony Davis
Age: 19
Height: 6'10"
Position: F/C
School: Kentucky (Nike)
Hometown: Chicago, IL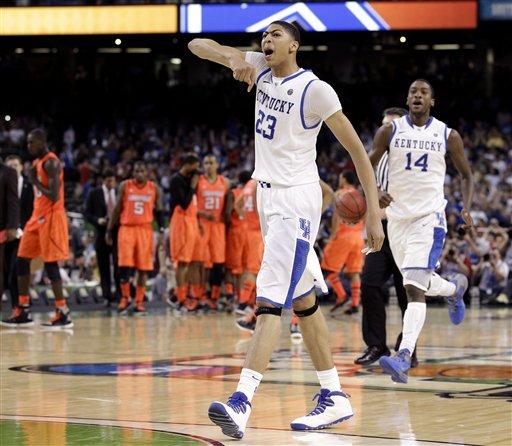 via
Anthony Davis is widely assumed to be the top overall pick in Thursday's draft by the New Orleans Hornets. He is projected to be a franchise player with incredible defensive and rebounding abilities with a special talent for blocking shots. In his only season at Kentucky, Davis was named the National Player of the Year by several organizations and led the Wildcats to their first national championship in 14 years. He is also the only member of this draft class to be invited to train at the USA Basketball camp in Las Vegas beginning on July 10. As part of the Kentucky basketball team that was sponsored by Nike, Davis and his teammates had the choice of wearing Nike or Jordan kicks. While Davis wore both brands during the season, he played the entire NCAA Tournament in the Jordan Retro X "Old Royal." He hasn't signed a shoe deal yet but he has already trademarked his famous uni-brow. Expect the brow to be incorporated into any endorsement deals that Anthony Davis picks up.
Michael Kidd-Gilchrist
Age: 18
Height: 6'7″
Position: SF
School: Kentucky (Nike)
Hometown: Somerdale, NJ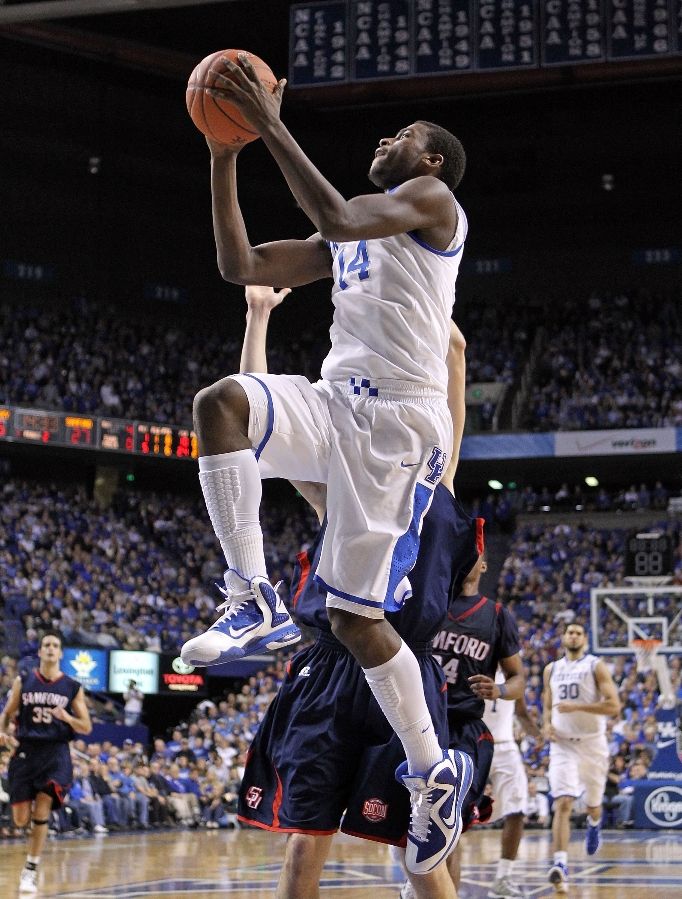 via
Michael Kidd-Gilchrist is one of three freshmen from Kentucky's National Championship team to have declared for the 2012 NBA Draft. A vital piece of the team, Kidd-Gilchrist started in all but one game for the Wildcats and has been praised by Coach John Calipari for his tireless work ethic. Kidd-Gilchrist is most likely a top four pick depending on team need but could very well be the best player in the draft, with the exception of Davis. If the Bobcats pass on MKG with the number two pick, we could very well see a dangerous Kentucky partnership made in Washington DC between John Wall and Kidd-Gilchrist. Though MKG hails from New Jersey and grew up a Nets fan, it is near impossible for the Nets to acquire a high enough pick to nab him. In terms of his shoe game, MKG is the only player who we do not need to speculate about. He has already signed a deal with Nike. In the above photo, Kidd-Gilchrist is wearing a custom Nike LeBron 9.
Terrence Jones
Age: 20
Height: 6'9″
Position: F
School: Kentucky (Nike)
Hometown: Portland, OR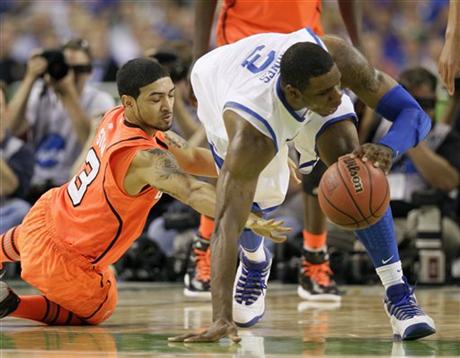 via
Leaving Kentucky after his sophomore season, Terrence Jones was among the "veterans" on the young Kentucky National Championship team. He is known for his versatility and athleticism while being able to play both forward positions. Jones is also a proven winner going to two Finals Fours and winning a championship in his two years in the collegiate ranks. While this draft is considered deep and unpredictable, Jones is certainly a lottery pick with an NBA ready body. Like Davis, Jones has sported his fair share of Nike and Jordan kicks including the Jordan Retro 10 "Old Royal."
Thomas Robinson
Age: 21
Height: 6'9″
Position: PF
School: Kansas (adidas)
Hometown: Washington, DC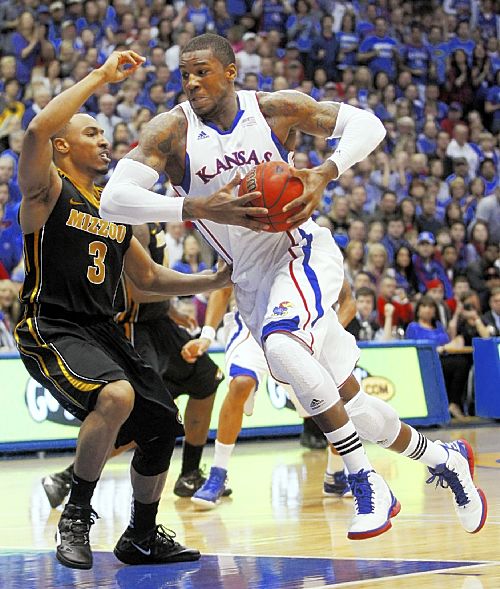 via
Thomas Robinson possesses all of the skills that NBA teams look for in a power forward. He is a high-energy and athletic rebounder who is strong yet lean. While the knock on Robinson is a lack of a standout offensive skill set, most believe that he has the potential to become a solid NBA forward with an immediate impact. It had been rumored that the Bobcats were interested in taking Robinson with the second pick in the draft if they don't trade their pick but expect him to be off the boards very early on Thursday evening. Playing at Kansas, an adidas school, Robinson played in a variety of their basketball shoes. In the above picture, he's in the adidas Crazy Light with a custom Kansas colorway. He is likely to be the highest player who wore adidas in college to be drafted so it's possible that they could be high on Robinson.
Bradley Beal
Age: 18
Height: 6'3″
Position: SG
School: Florida (Nike)
Hometown: St. Louis, MO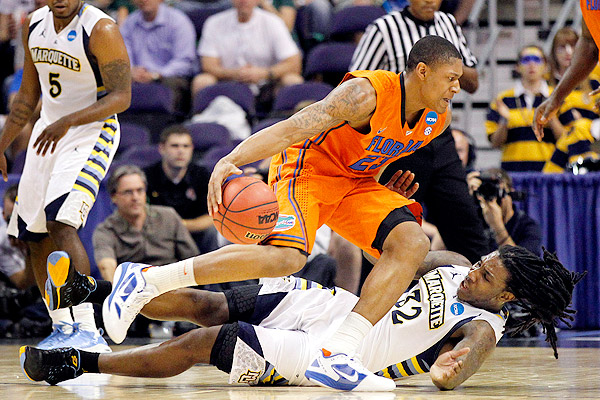 via
Bradley Beal, a supremely talented freshman shooting guard from the University of Florida, surprised many when he declared for this year's draft after the Gator's surprising Elite Eight run in the NCAA Tournament. Beal is a solid all around player with a deadly jumpshot and good defensive ability. Though, he's a little undersized for his position in the NBA, he is projected to be a lottery pick and has even been projected to be taken in the top three. Wherever Beal ends up on Thursday, he will most likely be picked in the top ten. Beal is wearing the Nike Hyperdunk Hyperfuse 2011 Low in the above picture, while playing in the NCAA Tournament.
Austin Rivers
Age: 19
Height: 6'5″
Position: G
School: Duke (Nike)
Hometown: Winter Park, FL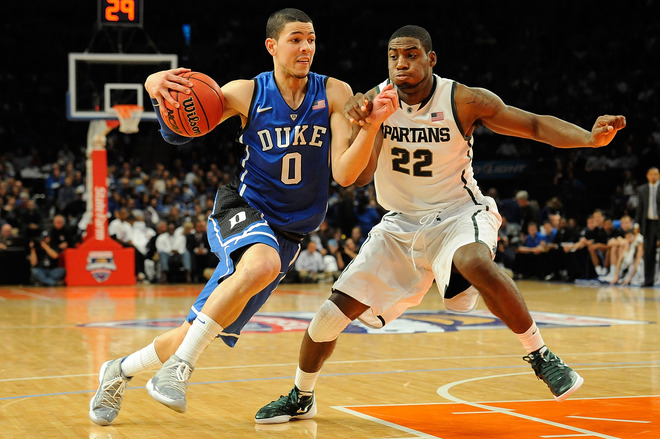 via
Austin Rivers is the second straight Duke point guard to leave the Blue Devils after his freshman season (Kyrie Irving). While it's unclear whether Rivers is a two guard or a point guard, it is clear that he's one of the best offensive players in the draft. The son of Boston Celtics coach, Doc Rivers, Austin is big enough to play either guard position and his ability to score at the next level has never been in question. After impressing many at the Draft Combine, it wouldn't be surprising for Rivers to become a high lottery pick. Rivers wore a number of different shoes on-court at Duke from Jordan retros (in the Retro XI Cool Grey above) to Nike basketball. His dad had a deal with Reebok during his NBA career so there could be a potential relationship there.
Perry Jones III
Age: 20
Height: 6'11"
Position: F
School: Baylor (adidas)
Hometown: Duncanville, TX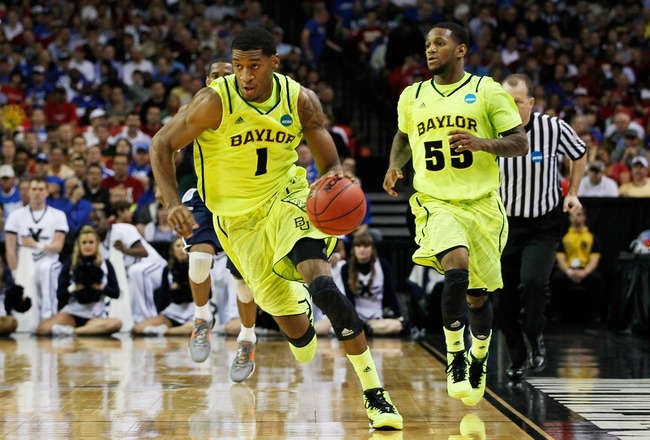 via
Perry Jones III could be the biggest question mark in this year's draft. His talent has been in the national spotlight since he was in high school and he has freakish athleticism. Even at 6'11", Jones can play both forward positions and dunk with the best of them. At his best, PJ3 is a top five pick but his failure to follow up his solid freshman season with a better sophomore one have marked him as a high risk high reward prospect. It wouldn't be surprising for a team with little to lose to reach in the draft to take him but it also wouldn't be surprising for him to fall out of the lottery. Depending on where he's taken and what city he goes to, look for adidas to be interested. Baylor's sudden rise to national prominence in both football and basketball have been a blessing for the company. Though PJ3 doesn't have the hype that Robert Griffin III had at the NFL draft, adidas moved very quickly to make sure they signed RG3. Could they do the same for another Baylor Bear?
John Henson
Age: 21
Height: 6'11"
Position: PF
School: North Carolina (Jordan)
Hometown: Tampa, FL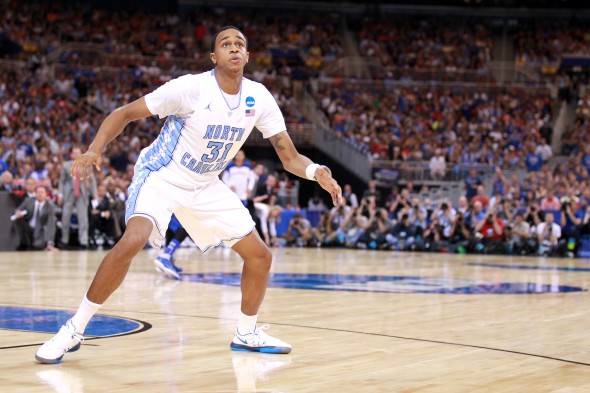 via
Though 6'11" is by no means short, John Henson's 7'4″ wingspan dwarfs his height. The definition of long, Henson has the perfect build to be a shot blocking and rebounding force in the NBA. He is a two time ACC Defensive Player of the Year and was First Team All-ACC last season but he'll need to add some muscle to make it big in the NBA. Born in December 1990, Henson played three years in college and may end up being the oldest lottery pick of this year's draft. The Tar Heels are sponsored by Jordan but their players are free to wear Nike shoes as well. In the photo above, Henson is wearing a custom edition Nike KD IV.
Harrison Barnes
Age: 20
Height: 6'8″
Position: SF
School: North Carolina (Jordan)
Hometown: Ames, IA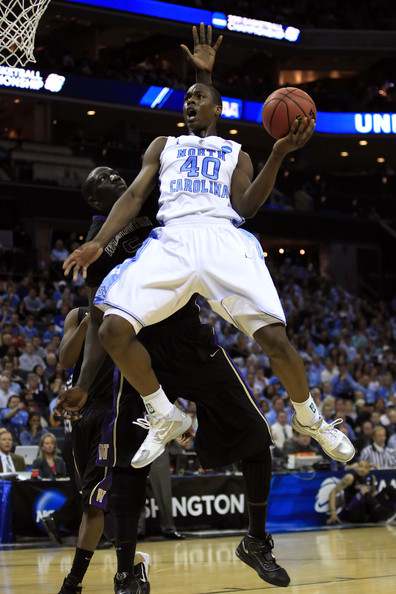 via
Harrison Barnes was the top recruit coming out of high school in 2010 and probably would have just wrapped up his second NBA season if it weren't for the NBA's eligibility rules. Though it could be said that Barnes didn't live up to his potential at UNC, the bar he set in high school was so high that it may have been impossible to reach in the first place. He surprised many by returning for his sophomore year but failed to up his stock significantly. Nonetheless Barnes is being projected as a top ten pick, if not top five. He is the prototypical NBA small forward and even though he has failed to reach his ceiling up to this point, scouts believe that at worst he is still a solid NBA player. He is likely not going to be a team's top scorer but with a pass first point guard or the right offensive scheme, Barnes will be a dangerous threat from long range and inside with great defensive skills. Barnes has taken a liking to numerous editions of the Nike Kobe line. In the above photo he is rocking the Nike Kobe V.
Kendall Marshall
Age: 20
Height: 6'4″
Position: PG
School: North Carolina (Jordan)
Hometown: Dumfries, VA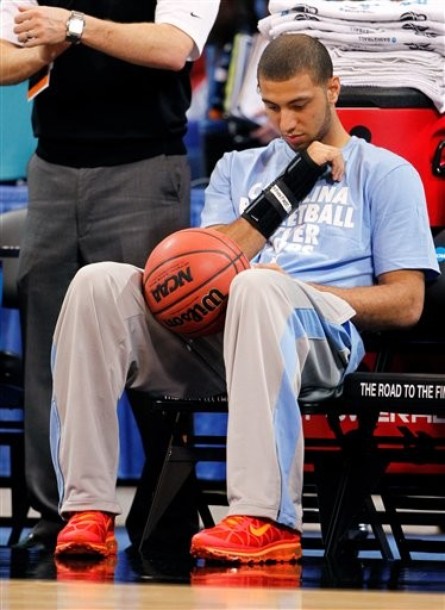 via
Kendall Marshall is probably the highest ranked true point guard in this year's draft class. Unfortunately, that means he is a great floor general with a pass first mentality which won't get him drafted much before the mid first round. Marshall has the ability to make his teammates better and that became obvious at this year's NCAA tournament where his wrist injury dealt a huge blow to UNC's title run hopes. If he does end up falling in the first round, he could end up leading a playoff team right away and making an immediate impact in the NBA. Marshall may also be the biggest sneakerhead in this year's draft class. Above, Marshall uses his injury as an opportunity to rock his eye popping Nike Air Max 2011.
Jeremy Lamb
Age: 20
Height: 6'5″
Position: SG
School: UConn (Nike)
Hometown: Norcross, GA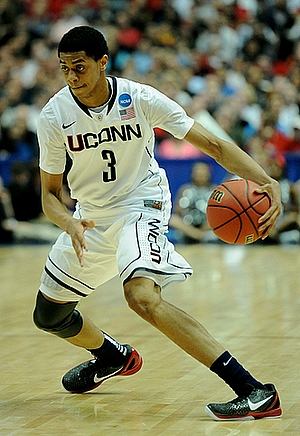 via
Jeremy Lamb is one of the most complete players in this year's draft class and he still has loads of potential to grow into. He has a deadly jumper and is a tremendous athlete. Though he could use to gain a few pounds, Lamb is a great finisher and a good defender when focused. He has been on NBA scouting radars for over a year now and most believe he has the ability to be a starting SG in the NBA for a long time. He will more than likely be a lottery pick and has the potential to play on the national team. He was the only member of the U-19 Team USA to make the All-Tournament Team at the 2011 FIBA U19 Championships last July in Latvia where the US finished fifth. Lamb usually plays in a Nike Kobe shoe. In the above photo he is wearing the Nike Kobe VI.
RELATED POSTS
ALSO POSTED IN...