August 8th - Posted By King Cobra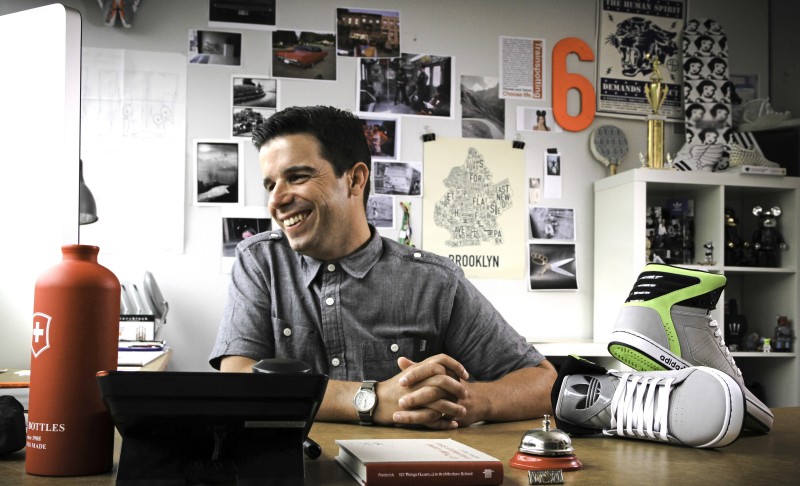 Foot Locker Unlocked recently sat down with for an exclusive one-on-one interview with adidas Originals designer Brian Foresta to discuss the new collections hitting Foot Locker stores this back-to-school season and some of his sneaker passions. Don't forget to check out these new adidas Originals in stores now.
What can adidas fans expect in the Originals category for back-to-school this year at Foot Locker?
We just launched our back to school campaign yesterday, all Originals Represent, headlined by stars like Nicki Minaj and hip hop artist Big Sean, Derrick Rose, Jeremy Scott and others. This campaign underlines every kids' need for self-expression, and we are enabling our consumers to share with us and the world their creativity, and what originality means to them. It's the perfect platform to showcase our new product at Foot Locker like the adi High EXT.
Explain some of the new innovations you are bringing to the Originals category this year.
On the style side of the brand, we look at innovation in terms of how it is based on individual's style through color, material and execution. There are endless combinations and we're always working to deliver new unique interpretations for our consumers.
What are some of the new designs you incorporated in the new adi high EXT and Roundhouse lines?
The adi High EXT has a real 90's throwback feel to it, updated with modern, clean twists.
There is a large graphic in the main overlay on the heal, heavy quilting, lux detailing and a large logo presentation on the popped tongue to complete the look for this shoe.
Did any athletes/celebrities have any input in the design of any of these shoes? If so, how?
We always have friends of the brand coming by our design studios to check out the latest product from adidas Originals and we always take their input into consideration.
What athlete/celebrity would you like to work with and design a shoe for?
Who we choose to work with is based on partners who echo the brand's values of authenticity, creativity and individuality. adidas Originals counts on its diverse and organically grown relationships to international artists and athletes who are all united with the brand by their commonality as originals.
Where do you get your inspiration for shoe design?
As a design team, we spend a lot of time on the road to get the pulse on the street for our target consumer. What we see and what we feel as a result of a lot of market travel are important considerations when working on a new product…
What is your favorite shoe you've designed to date?
One in particular that comes to mind is a snow boot we designed as part of our Burton collaboration – I really liked how it was based on heritage of snowboarding, but at the same time not trying to be a functional snow boot. And, I just love the Burton brand so the partnership made sense.
What new trends do you see taking shape in the sneaker category?
It's interesting to see the reintroduction of a more athletic influence in all aspects of the sneaker culture. More so, we all know that many consumers are influenced by music, artists, celebrity and athletes. It's interesting to see styles and trends react and adapt to those influencers.
How many shoes are in your collection and what is your favorite shoe to wear?
I've finally slimmed down my collection to around 100 pairs, and I think my go-to pair right now is my Campus 80 suede
RELATED POSTS
ALSO POSTED IN...