August 15th - Posted By King Cobra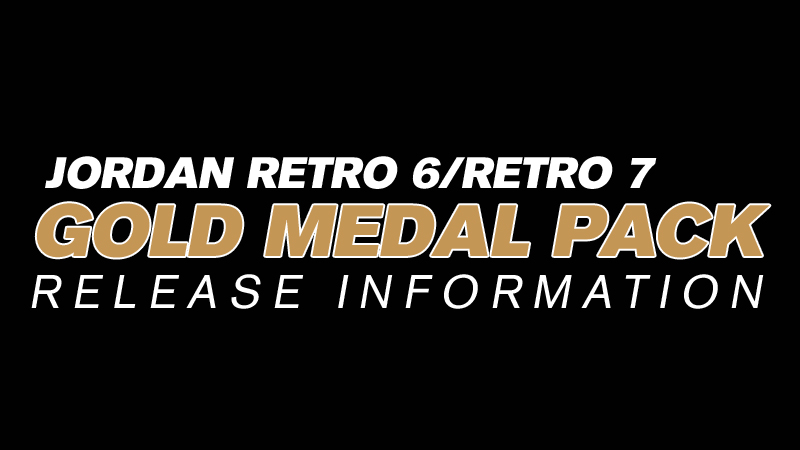 Select Foot Locker stores will hold a sweepstakes for the chance to purchase the Jordan Retro 6/7 "Gold Medal Pack."
Customers can go down to one of the participating stores on Thursday, August 16th until 6:00 p.m. local time to pick up a ticket. You must show a valid photo ID to pick up a ticket. Limit one per customer. Winners will be notified on Friday, August 17th. A list of winning tickets will be posted on the mall website, or if the store is not located in a mall, Foot Locker will attempt to notify the winners via telephone. Contact your local store for specific details.
If your ticket number is drawn, you must be at the store at 8:00 a.m. local time on Saturday, August 18th in order to purchase the shoes. The order in which the tickets are drawn is the order in which you will have the opportunity to purchase the shoes. You must show a valid photo ID that matches the name on the list in order to purchase the shoes.
Below is the list of participating stores that will receive the Jordan Retro 6/7 "Gold Medal Pack". To view our store locator click here.
BEL AIR MALL – MOBILE AL
SELMA MALL – SELMA AL
WESTERN HILL – FAIRFIELD AL
RIVERCHASE – BIRMINGHAM AL
EASTDALE ML – MONTGOMERY AL
FIVE POINTS – BIRMINGHAM AL
PARK PLAZA – LITTLE ROCK AR
ARROWHEAD – GLENDALE AZ
DESERT SKY MALL – PHOENIX AZ
SCOTTSDALE – SCOTTSDALE AZ
ARIZONA MILL – TEMPE AZ
UNIV TOWN CR – SAN DIEGO CA
PLAZA BONITA – NATIONAL CITY CA
FASHION VAL – SAN DIEGO CA
CULVER CITY – CULVER CITY CA
BEVERLY CENTER – LOS ANGELES CA
BALDWIN HILL – LOS ANGELES CA
PROMENADE – SANTA MONICA CA
SOUTH COAST – COSTA MESA CA
LAKEWOOD CTR – LAKEWOOD CA
STONEWOOD SC – DOWNEY CA
MONTEBELLO – MONTEBELLO CA
TOPANGA PZ – CANOGA PARK CA
GLENDALE GL – GLENDALE CA
ONTARIO MILL – ONTARIO CA
SOMERSVILLE – ANTIOCH CA
VALLEY FAIR – SANTA CLARA CA
SERRAMONTE – DALY CITY CA
SAN FRAN CTR – SAN FRANCISCO CA
ANTELOPE VALLEY – PALMDALE CA
ARDEN FAIR – SACRAMENTO CA
AURORA TC – AURORA CO
PARK MEADOW – LITTLETON CO
WESTFARMS – FARMINGTON CT
CHRISTIANA – NEWARK DE
ORANGE PARK – ORANGE PARK FL
GATEWAY TOWN – JACKSONVILLE FL
NORMNDY BLVD – JACKSONVILLE FL
REGENCY SQ – JACKSONVILLE FL
FLORIDA MALL – ORLANDO FL
PRIME OUTLET – ORLANDO FL
UNIV MALL – TAMPA FL
CORAL SQUARE – CORAL SPRINGS FL
SAWGRASS MIL – SUNRISE FL
WELLINGTON – WELLINGTON FL
POMPANO CITI – POMPANO BEACH FL
CROSS COUNTY – WEST PALM BEACH FL
BROWARD MALL – PLANTATION FL
MALL 163RD S – NORTH MIAMI BEACH FL
AVENTURA ML – AVENTURA FL
EDISON MKTPL – MIAMI FL
OAKWOOD PLZ – HOLLYWOOD FL
IVES DAIRY – MIAMI GARDENS FL
NORTHSIDE SC – MIAMI FL
MARKET SC – MIAMI FL
DOLPHIN PLZ – OPA LOCKA FL
SHOPS AT MIDTOWN- MIAMI FL
DADELAND ML – MIAMI FL
MIRAMAR PKWY – MIRAMAR FL
HOMESTEAD – HOMESTEAD FL
PEMBROKE – PEMBROKE PINES FL
OGLETHORPE – SAVANNAH GA
AUGUSTA MALL – AUGUSTA GA
SOUTH DEKALB – DECATUR GA
LENOX SQUARE – ATLANTA GA
UNDERGROUND – ATLANTA GA
STONECREST – LITHONIA GA
ML WEST END – ATLANTA GA
GREENBRIAR – ATLANTA GA
PEACHTREE ML – COLUMBUS GA
PERIMETER ML – ATLANTA GA
CUMBERLAND – ATLANTA GA
SOUTHLAKE ML – MORROW GA
CROSS CTY PZ – COLUMBUS GA
MICRONESIA M – DEDEDO GU
CTR OF WAIKI – HONOLULU HI
ALA MOANA – HONOLULU HI
STATE STREET – CHICAGO IL
FORD CITY ML – CHICAGO IL
N RIVERSIDE – NORTH RIVERSIDE IL
FOX VALLEY – AURORA IL
WOODFIELD ML – SCHAUMBURG IL
ST CLAIRE SQ – FAIRVIEW HEIGHTS IL
STATE STREET – EAST ST. LOUIS IL
GREENWOOD PK – GREENWOOD IN
LAFAYETTE SQ – INDIANAPOLIS IN
OAK PARK ML – OVERLAND PARK KS
FAYETTE MALL- LEXINGTON KY
ST VINCENT – SHREVEPORT LA
LAKESIDE ML – METAIRIE LA
OAKWOOD CTR – GRETNA LA
ACADIANA ML – LAFAYETTE LA
HAMMOND SQ – HAMMOND LA
CORTANA MALL – BATON ROUGE LA
LOUISIANA ML – BATON ROUGE LA
CAMBRIDGE GL – CAMBRIDGE MA
SOUTH SHORE – BRAINTREE MA
HOLYOKE MALL – HOLYOKE MA
TOWN CEN – WALDORF MD
M LUTHER KIN – LANDOVER MD
PR GEORGES – HYATTSVILLE MD
MONTGOMERY – BETHESDA MD
TOWSON T.C. – TOWSON MD
COLUMBIA MAL – COLUMBIA MD
ARUNDEL MILL – HANOVER MD
IVERSON ML – HILLCREST HEIGHTS MD
NORTHLAND CR – SOUTHFIELD MI
FAIRLANE CTR- DEARBORN MI
WESTLAND ML – WESTLAND MI
GRAND RIVER – DETROIT MI
GREAT LAKES – AUBURN HILLS MI
EASTLAND CTR – HARPER WOODS MI
ST LOUIS GAL – ST. LOUIS MO
CITY PLAZA – ST. LOUIS MO
PLAZA ON BLV – JENNINGS MO
HAWTHORNE – MINNEAPOLIS MN
MIDWAY SC – ST. PAUL MN
HUB SHOP CTR – RICHFIELD MN
MALL OF AMERICA – BLOOMINGTON MN
MAPLEWOOD ML – ST. PAUL MN
EDGEWATER ML – BILOXI MS
CONCORD MILL – CONCORD NC
CROSS CREEK – FAYETTEVILLE NC
CAROLINA PLC – PINEVILLE NC
NORTH POINTE – CHARLOTTE NC
NORTHLAKE – CHARLOTTE NC
SOUTHPARK – CHARLOTTE NC
FREEDOM DR – CHARLOTTE NC
CRABTREE ML – RALEIGH NC
GREENVILLE – GREENVILLE NC
HANES MALL – WINSTON SALEM NC
SUMMIT PLAZA- GREENSBORO NC
BRIDGEWATER – BRIDGEWATER NJ
MENLO PARK – EDISON NJ
WOODBRIDGE – WOODBRIDGE NJ
GARDEN STATE – PARAMUS NJ
WILLOWBROOK – WAYNE NJ
JERSEY GARDENS – ELIZABETH NJ
HUDSON MALL – JERSEY CITY NJ
FREEHOLD – FREEHOLD NJ
CHERRY HILL – CHERRY HILL NJ
DEPTFORD ML – WOODBURY NJ
ROCKAWAY ML – ROCKAWAY NJ
CORONADO CTR – ALBUQUERQUE NM
CROSSGATES – ALBANY NY
CAROUSEL CTR – SYRACUSE NY
MARKETPLACE – ROCHESTER NY
WALDEN GALL – BUFFALO NY
STATEN ISLAND MALL- STATEN ISLAND NY
PALISADES CT – WEST NYACK NY
ROOSEVELT FD – GARDEN CITY NY
SMITHHAVEN – LAKE GROVE NY
GREEN ACRES – VALLEY STREAM NY
FULTON ST (ALL 3 LOCATIONS) – BROOKLYN NY
KINGS PLAZA – BROOKLYN NY
FLATBUSH AVE – BROOKLYN NY
LIBERTY AVE – BROOKLYN NY
KNICKERBOCKE – BROOKLYN NY
PITKIN AVE – BROOKLYN NY
WEST 181ST – NEW YORK NY
1911-13 3RD – NEW YORK NY
86TH STREET – BROOKLYN NY
W 125TH ST – NEW YORK NY
TIMES SQ – NEW YORK NY
QUEENS CENTR – ELMHURST NY
EAST 86TH ST – NEW YORK NY
WEST 14TH ST – NEW YORK NY
34TH STREET – NEW YORK NY
WEST 34TH ST – NEW YORK NY
GALLERIA – WHITE PLAINS NY
TREMONT AVE – BRONX NY
WESTCHESTER – BRONX NY
CROSS COUNTY – YONKERS NY
THIRD AVE – BRONX NY
E BURNSIDE – BRONX NY
22 E 170TH – BRONX NY
E FORDHAM RD – BRONX NY
THE MEADOWS – LAS VEGAS NV
FASHION SHOW – LAS VEGAS NV
MIRACLE MILE – LAS VEGAS NV
SUMMIT MALL – FAIRLAWN OH
TOWER CITY – CLEVELAND OH
EUCLID AVE – EAST CLEVELAND OH
FRANKLIN PK – TOLEDO OH
EASTON TC – COLUMBUS OH
WASHINGT'N – TIGARD OR
HARRISBURG – HARRISBURG PA
ROOSEVELT MALL – PHILADELPHIA PA
KING PRUSSIA – KING OF PRUSSIA PA
LAUREL MALL – HAZEL TOWNSHIP PA
LEHIGH VALLEY – WHITEHALL PA
LAS AMERICAS – SAN JUAN PR
MAYAGUEZ ML – MAYAGUEZ PR
PROVIDENCE – PROVIDENCE RI
COLUMBIA PL – COLUMBIA SC
HICKORY HOLL – ANTIOCH TN
GOVERNORS SQ – CLARKSVILLE TN
WOODLANDS ML – THE WOODLANDS TX
KATY MILLS – HOUSTON TX
GULFGATE CTR – HOUSTON TX
GREENSPOINT – HOUSTON TX
WILLOWBROOK – HOUSTON TX
THE GALLERIA – HOUSTON TX
MEMORIAL CY – HOUSTON TX
WEST OAKS ML- HOUSTON TX
BAYBROOK ML – FRIENDSWOOD TX
DEERBROOK ML – HUMBLE TX
VICTORIA ML – VICTORIA TX
LA PALMERA – CORPUS CHRISTI TX
PARKS ARLINGTON – ARLINGTON TX
WYNNEWOOD SC – DALLAS TX
SIERRA VISTA – DALLAS TX
UPTOWN VLG – CEDAR HILL TX
SOUTHWEST CT – DALLAS TX
TOWN EAST ML – MESQUITE TX
BUCKNER COM – DALLAS TX
WILLOW BEND – PLANO TX
NORTHPARK – DALLAS TX
HULEN MALL – FORT WORTH TX
SOUTH PLAINS – LUBBOCK TX
SUNSET MALL – SAN ANGELO TX
GRAPEVINE ML – GRAPEVINE TX
LA PLAZA ML – MCALLEN TX
SOUTH PARK – SAN ANTONIO TX
NORTH STAR – SAN ANTONIO TX
KILLEEN MALL- KILLEEN TX
TEMPLE MALL – TEMPLE TX
PENN SQUARE – OKLAHOMA CITY OK
HANCOCK CTR – AUSTIN TX
BARTON CREEK – AUSTIN TX
CIELO VISTA – EL PASO TX
FASHION PL – MURRAY UT
CITY CREEK – SALT LAKE CITY UT
MAYFAIR ML – MILWAUKEE WI
PENTAGON CTY – ARLINGTON VA
POTOMAC MILL – WOODBRIDGE VA
RIVER RIDGE – LYNCHBURG VA
LYNNHAVEN ML – VIRGINIA BEACH VA
GREENBRIAR – CHESAPEAKE VA
MILITARY CIR – NORFOLK VA
MACARTHUR C – NORFOLK VA
TYSONS CORNR- MCLEAN VA
SOUTHCENTER – TUKWILA WA
TACOMA MALL – TACOMA WA
RELATED POSTS
ALSO POSTED IN...