February 17th - Posted By Foot Locker Unlocked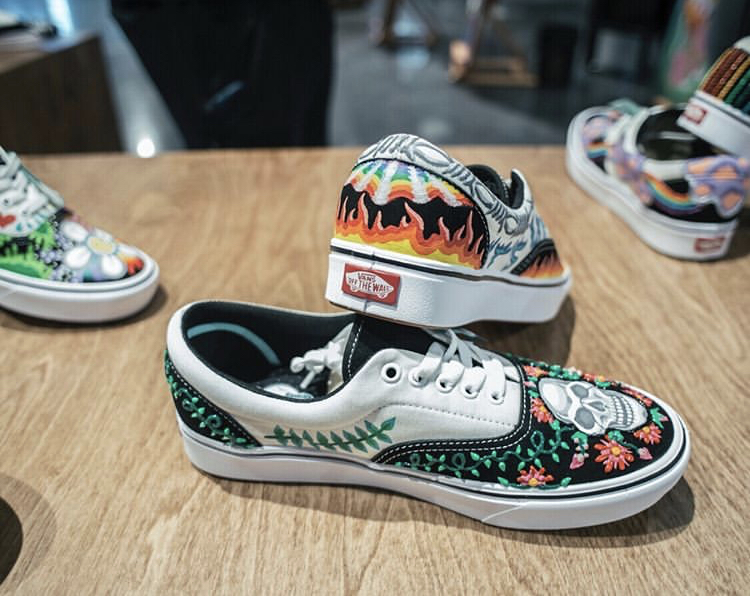 Foot Locker DET & House of Vans Custom Sneaker Sweepstakes
R EF ER A F RI E ND ON I NS T AG RAM O FFI C I A L R UL E S
N O P UR C HAS E R EQ U I R ED TO E NT E R OR W IN
1. ELIGIBILITY: The "Foot Locker Detroit x House of Vans Custom Sneaker Giveaway" Sweepstakes (the "Sweepstakes") is open only to persons who, at the time of entry, are legal residents of the State of Michigan and are at least thirteen (13) years of age. Employees of Foot Locker Retail, Inc. or its affiliated companies, as well as the immediate family (spouse, parents, siblings, and children) and household members of each such employee are not eligible. The Sweepstakes is subject to federal, state, and local laws and regulations is void where prohibited by law.
2. SPONSOR: The Sweepstakes is sponsored by Foot Locker Retail, Inc., 330 West 34th Street, New York, NY 10001 (the "Sponsor"). Instagram is not a sponsor of, or otherwise associated with, this Sweepstakes.
3. AGREEMENT TO OFFICIAL RULES: Participation in the Sweepstakes constitutes an entrant's full and unconditional agreement to and acceptance of these Official Rules and the decisions of the Sponsor, which are final and binding. Winning a prize is contingent upon fulfilling all requirements set forth herein.
4. ENTRY PERIOD: The Sweepstakes begins at 12:00pm ET on Sunday February 17th, 2019 and ends at 12:00p.m. ET on Saturday, February 23rd, 2019 (the "Entry Period). Entries received before or after the Entry Period are void.
5. HOW TO ENTER:
a. Follow Sponsor's Instagram page (@FootLockerdetroit) and partner (@houseofvans) Instagram page
b. @mention three (3) friends in Sponsor's "Foot Locker Detroit x House of Vans Custom Sneaker Giveaway referral post (comment section), to be posted on Sunday, February 17th, 2019 on Foot Locker DET Instagram page, before the end of the Entry Period.
c. Like the Sponsor's "Foot Locker Detroit x House of Vans Custom Sneaker Giveaway" Sweepstakes referral post
6. Drawing: At the conclusion of the single Entry Period a Foot Locker will randomly select three winners (local to Detroit). The winners will be shipped a pair of the Custom House of Vans Sneakers from the Foot Locker Detroit Office by 2/22/19 by Foot Locker's Local Marketing Manager Don Dudley. FTL DET will attempt to notify the winner by posting a comment on his/her Entry/ Direct messaging the winner via FTL DET IG. The potential winner must respond within Forty-eight (48) hours of the notification.
7. REQUIREMENTS OF POTENTIAL WINNERS: Except where prohibited, a potential winner may be required to complete and return an affidavit of eligibility and a liability/publicity release. If a potential winner fails to respond and or sign and return the documents within the required time period forty-eight (48) hours, Sponsor may select an alternate potential winner in his/her place according to the procedures set forth above. Only three (3) alternate potential winners may be contacted.
8. PRIZES: Seven winners will receive one pair of the Custom Vans Sneakers pre-made and painted by artists Clown Tearz, each pair varies in design and is a 1 of 1. There is a limit of one (1) prize (per person). Any prize details not specified above will be determined by Sponsor, in its sole discretion. A prize may not be transferred and must be accepted as awarded. A winner may not request cash or a substitute prize. Approximate Retail Value of all prizes: $60.00.
9. GENERAL CONDITIONS: In the event that the operation, security, or administration of the Sweepstakes is impaired in any way, Sponsor may, in its sole discretion, either: (a) suspend the Sweepstakes to address the impairment and then resume the Sweepstakes; or (b) award the prizes in a random drawing of entries received up to the time of the impairment. Sponsor reserves the right, in its sole discretion, to disqualify and seek damages from any individual who tampers with the operation of the Sweepstakes, violates these Official Rules, or acts in a disruptive or unsportsmanlike manner. Sponsor's failure to enforce any term of these Official Rules shall not constitute a waiver of that provision. Proof of sending any communication to Sponsor by mail shall not be deemed proof of receipt of that communication by Sponsor. In the event of a dispute as to the owner of an Entry, the owner of the Instagram account used to enter will be deemed the owner.
10. RELEASE AND LIMITATIONS OF LIABILITY: By participating in the Sweepstakes, you agree to release and hold harmless Sponsor, Instagram, their respective parent, subsidiaries, affiliates, and each of their respective officers, directors, employees, and agents (the "Released Parties") from and against any claim or cause of action arising out of participation in the Sweepstakes or receipt or use of any prize, including, but not limited to: (a) unauthorized human intervention in the Sweepstakes; (b) technical errors; (c) printing errors; (d) lost, late, postage-due, misdirected, or undeliverable mail; (e) errors in the administration of the Sweepstakes or the processing of Entries; or (f) injury or damage to persons or property. You further agree that in any cause of action, in no event shall the Released Parties be liable for attorney's fees. You waive the right to claim any damages whatsoever, including, but not limited to, punitive, consequential, direct, or indirect damages.
11. PRIVACY AND PUBLICITY: Any information you submit as part of the Sweepstakes will be used for purposes of this Contest and treated in accordance with Sponsor's Privacy Policy.
12. DISPUTES: Except where prohibited, you agree that any and all disputes, claims and causes of action arising out of, or connected with, the Sweepstakes or any prize awarded shall be resolved individually, without resort to any form of class action, and exclusively by the appropriate court located in New York. All issues and questions concerning the construction, validity, interpretation and enforceability of these Official Rules, your rights and obligations, or the rights and obligations of Sponsor in connection with the Sweepstakes, shall be governed by, and construed in accordance with, the laws of New York, without giving effect to any choice of law or conflict of law rules (whether of New York or any other jurisdiction), which would cause the application of the laws of any jurisdiction other than New York.
13. RESULTS: To obtain a list of winners, send a self-addressed, stamped envelope to "Foot Locker DET x House of Vans Custom Sneaker Giveaway" Sweepstakes at 17755 East 8 Mile Rd, Eastpointe MI 48021. Requests must be re
RELATED POSTS
TAGS
ALSO POSTED IN...